Enterprise Computing Services
Enterprise Computing is distinguishable for its compatibility to various platforms, technology, portals and servers.
Talk to an expert
SmartPrise SOA
Our SmartPrise SOA services stands for business agility, performance and interoperability and is a framework to assess, plan and enable the implementation of Service Oriented Business Processes to create Smarter Enterprise through proven and right sized SOA and BPM adoption.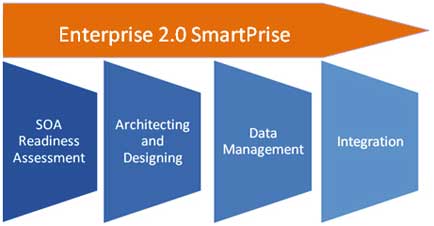 Visible Stars has a strategic multi-platform and multi-vendor approach in providing its SmartPrise SOA offerings, and helps the organizations to
Architect and design service enabled enterprise class applications
Build novelty BPM models and remodel their existing BPM models
Service enable, integrate, enrich their Web 1.0, Web 2.0 and Legacy applications through upgrades and migrations
SmartPrise SOA Best Practices
SOA Readiness Assessment
Take our Complimentary SOA Readiness Assessment
Architecting and Designing
Data Management
Integration
Our strategic partnership with technology majors like Microsoft, IBM, Redhat, Ubuntu and others help us serve our customers with wide range of products based on the customer preference and needs. Our Enterprise 2.0 SmartPrise offerings for enterprises include:
Enterprise Application Integration (EAI)
Enterprise Service Bus (ESB)
BPM
SOA-enabled application development
Business Paybacks
Helps you to increase your customer satisfaction through improved dynamic business services possible using new, speedy and feature rich technologies
Quick ROI with reduced operating expenses
Bridges and aligns your business with IT
More automated processes with reduced manual handling thereby reduced human intervention and errors
Flexible and innovative BPM models
New innovations on existing BPM activities
Speedy business management processes
Keeps you on-track with new emerging business trends
Optimized solutions and services at incredibly low cost
Less turn-around time and faster market reach
Techincal Paybacks
Services around decentralized and distributed service oriented architecture
Easy Integration and interaction between various components and applications such as
desktop application, legacy application, web application, etc
Excellent data handling and management practices
High performing APIs
Highly secured and scalable
Easy configuration
Reduced maintenance costs
Re-usability of components
No implementation and configuration pains
Enterprise Web 2.0/3.0 & RIA
VisibleStars with its strong expertise group provides Enterprise Web 2.0/3.0 Computing Framework solutions through next generation technologies and tools that elevate the enterprises to zenith of success.
VisibleStars's Enterprise Web 2.0 offerings for enterprises include:
Architecting, designing, implementing and testing new Web 2.0 application for enterprises
Migrating existing applications from Web 1.0 to Web 2.0
Migrating legacy applications to Web 2.0
Customizing existing Web 2.0 applications for security, profiling and more suited to your enterprise needs
CMS (content management system) enabled web applications enabling for easy web updates
Service enable and integrate all types of applications-desktop, legacy, Web 1.0, Web 2.0, etc
VisibleStars's Enterprise Web 2.0 Key Benefits
Applications with rich and user-friendly interface
Customized web services to the needs of an enterprise
Web applications which are dynamic and cost effective
Enables you to serve your customers faster and better
Easy access for customers and users from any remote place through web
User interface enriched with AJAX, RIA, mashups etc providing sophisticated features like instant data validation, drag and drop of widgets and flash components, etc
AJAX enabled applications for faster and timely data updates and refreshment
Web applications with efficient interaction between the database and interface layers tuning data refreshments to a block, field or screen, etc
Distributed architecture enabling integration between various applications, data sharing, remote accessibility and usability
Re-usability of components
Modularization allowing for easy handling, enhancement, modifications, etc
Language enhancement by using latest and greatest feature rich versions
Highly secured and good performance capability
Simple configuration procedures
Easy and faster implementation
SmartPrise Visual Commerce
SmartPrise Visual Commerce is a stand-alone application that provides seamless integration with mutliple applications and social networking sites and is a flexible platform for enhancements and customizations.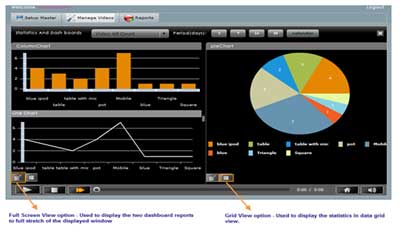 VisibleStars's SmartPrise Visual Commerce is the interactive online video management platform designed to enable the users to effectively upload and manage videos, which is built based on Adobe Flex and supported by RTMP & HTP. SmartPrise Visual Commerce supports commercial and open source media servers and video postings in any format which includes .AVI, .MPG, .MOV and .FLV.
VisibleStars has designed SmartPrise Visual Commerce to provide enterprises an innovative demonstration, marketing and selling platform for their products with its unique rich and user-friendly features such a auto-tracking, context sensitivity, object marque, rating, sharing and more.
Conventionally, the comments & ratings for a video are managed and driven by the web page carrying the video posting. But SmartPrise Visual Commerce enables for a MaaS (Media as a Service) platform where the videos are user interactive and managed to act as a trail on their history, by having rating and comments posted by users being embedded on the video itself.
Key Features of SmartPrise Visual Commerce
Upload, download, play and convert videos to preferred formats
Real-time streaming and playing of videos supported by RTMP & HTP
Rate and comment on videos
Share videos with other users and social networking applications such as YouTube, Facebook, Twitter and more
Supports tablet PCs and smart phones such as iPads, iPhones, Blackberry, Windows Mobile, Google Android G1 phones, Symbian and Brew devices
Administrative and user control panels to administer and manage user access rights to perform various activities for a video
Marque a product or object in a video and make it context sensitive for e-Commerce enablement and integration
Tracking a product or object in the video
Generating reports on the various activities performed on the video
Seamless integration with active directory and open ID (Single Sign-On)
Multiple deployment models: On-premise, Cloud & SaaS-based hosting
Key Benefits
Interactive and gives the users a real time collaboration experience with the videos
Integration with e-Commerce applications enables the users to make instant online purchase of the object or product portrayed in the video
Supports multiple video formats
Its support for RTMP & HTP streaming provides real-time play and greater performance
Mobile and cloud enablement provides anytime anywhere access over various mobile devices and tablet PCs
Greater interoperability with social media sites like Facebook, YouTube, Twitter & more provides faster reach to the market through networking
Multiple deployment models and faster implementation process
Administrative panels ensure secured and user-based privileges to access and manage videos
SmartPrise Cloud
SmartPrise Cloud increases profitability by improving resource utilization and costs are driven down by delivering and leveraging appropriate resources only for the time those resources are needed.
In today's global competitive market, companies must innovate and get the most from its resources to succeed. This requires enabling its employees, business partners, and users with the platforms and collaboration tools that promote innovation.

VisibleStars's SmartPrise cloud offer enterprises offers Cloud Computing infrastructures, which are next generation platforms that can provide tremendous value to companies of any size. VisibleStars's SmartPrise Cloud help companies achieve more efficient use of their IT hardware and software investments and provide a means to accelerate the adoption of innovations.

SmartPrise Cloud increases profitability by improving resource utilization and costs are driven down by delivering and leveraging appropriate resources only for the time those resources are needed.

VisibleStars has partnered with industry-best cloud providers - Amazon, Microsoft, IBM, Canonical Ubuntu, OpSource, RightScale, Rackspace, Google & VMWare - and helps the enterprises to host their applications in Private, Public and Hybrid environment of these vendor cloud products in a cost effective manner.


VisibleStars's SmartPrise Cloud offerings include:
End-to-End services in building, managing and deploying in private, public & hybrid clouds
Solutions & Services built on industry-leading cloud products like IBM Cloud, Amazon, VMware, OpSource& more
Establishing cloud reference architectures and framework
Consulting & Implementation services
Post Implementation Maintenance & Support
Key Benefits
Expertise resources with in-depth knowledge on working with different cloud products
Proven track record in building and delivering cloud-based solutions and services
Neutral vendor alignment enabling enterprises to choose their preferred vendors
Faster implementation & Roll-out saving the implementation cost to a considerable amount in terms of effort & time spent
Complimentary Cloud Readiness Assessment, TCO analysis & Pilot deployments on case-by-case basis
Value-added suite of services that includes BPM & SOA-enablement
Round the clock customer support
SmartPrise SocNet
VisibleStars's SmartPrise SocNet is the Next Generation Collaboration and Knowledge Management solution for enterprises to promote collaboration, knowledge sharing and interaction among its employees. VisibleStars's SocNet solution provides the business managers access to right information at right time through collaborative platforms within and across the organization at inexpensive cost.
Our Collaboration and Knowledge Management solution built on Web 2.0 technologies can help your organization gain immense potential through knowledge promotion, thought exchange and innovation, turning out to bring huge business opportunity for your enterprise. Our SocNet solution can help your organization build social computing tools like Blog, Forums, Syndications and more through which you can express your organization's vision, ideas, innovations, strategic value and leadership insights to the world. Our expertise in open source technologies and commercial products can help you build social computing portals at reduced cost.